Christmas is NOT cancelled!
This year, more than any other before, we feel extremely happy for the upcoming month and Christmas holiday. In the uncertainty of the times we're going through, it's a huge relief to know that we'll be opening our restaurants, serving our guests as normal during this festive month.
For us Greeks, Christmas is all about family and good food. The festivities include a month of long dinners and lunches with friends and family, gatherings in a different household each and every day, loud chats and laughs, cheek-pinching aunties and grannies and children running around and opening gifts with excited squeals! This year will be very different for everyone around the planet, home gatherings will have to be downsized, but at least we can open our restaurant doors- and our socially distanced hugs- and allow families to celebrate together with us!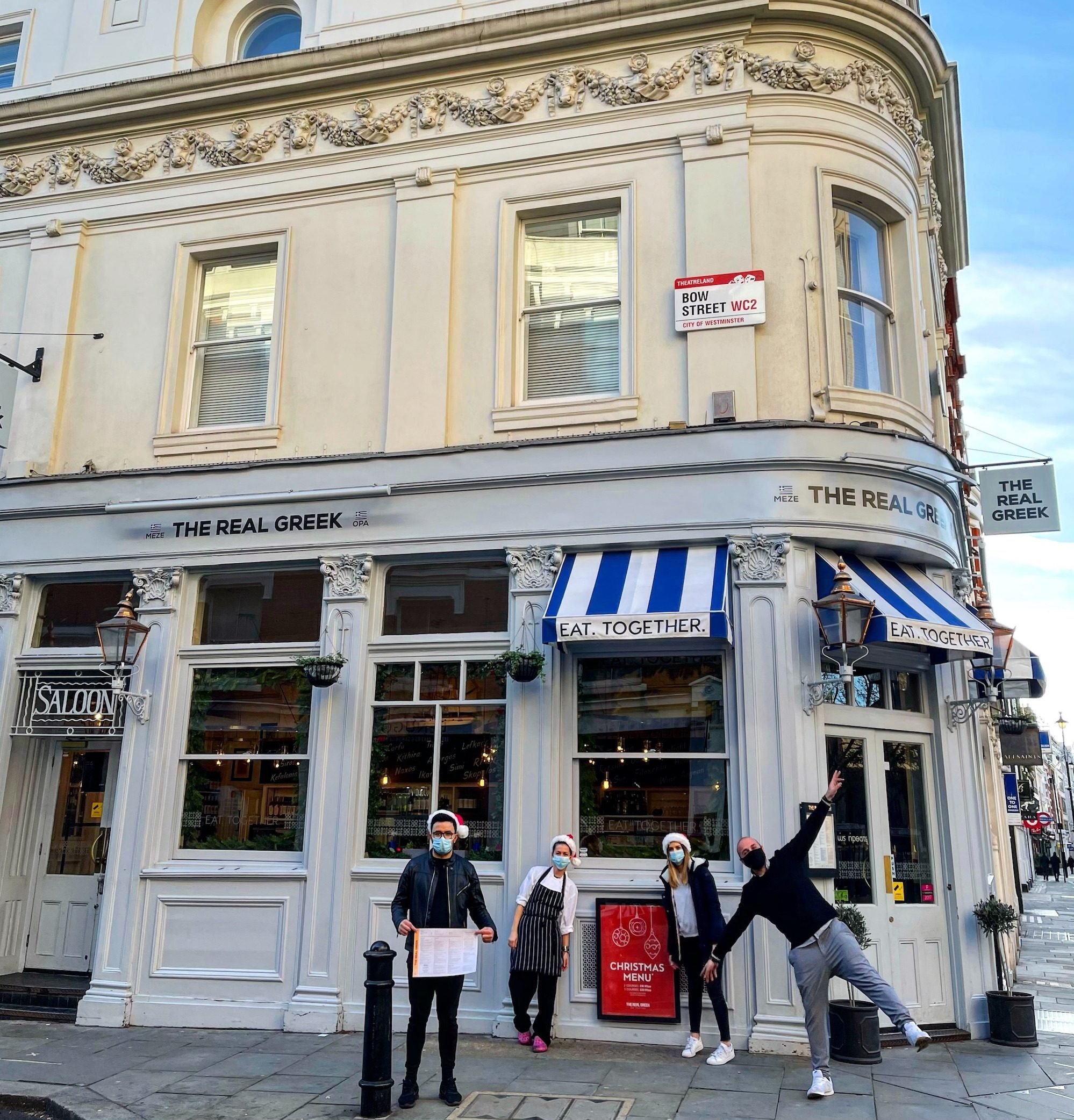 This year, the Real Greek Christmas Menu reflects just that. We want you and yours to feel the Greek Christmas spirit, the joy of sharing a delicious, heart-warming meal with your loved ones. You can choose 2 courses for £18.95pp or 3 courses for £23.95pp. To start with, you'll be offered a glass of prosecco as a welcome drink, a Greek Meze Platter as a starter and then you will have a choice of a Hot Meze and a Side dish as your 'Main course'. This is then followed by your choice of dessert. For the 2 course option, you can choose between the Greek Meze Platter or a dessert, but either way, you will be greeted with a prosecco in hand!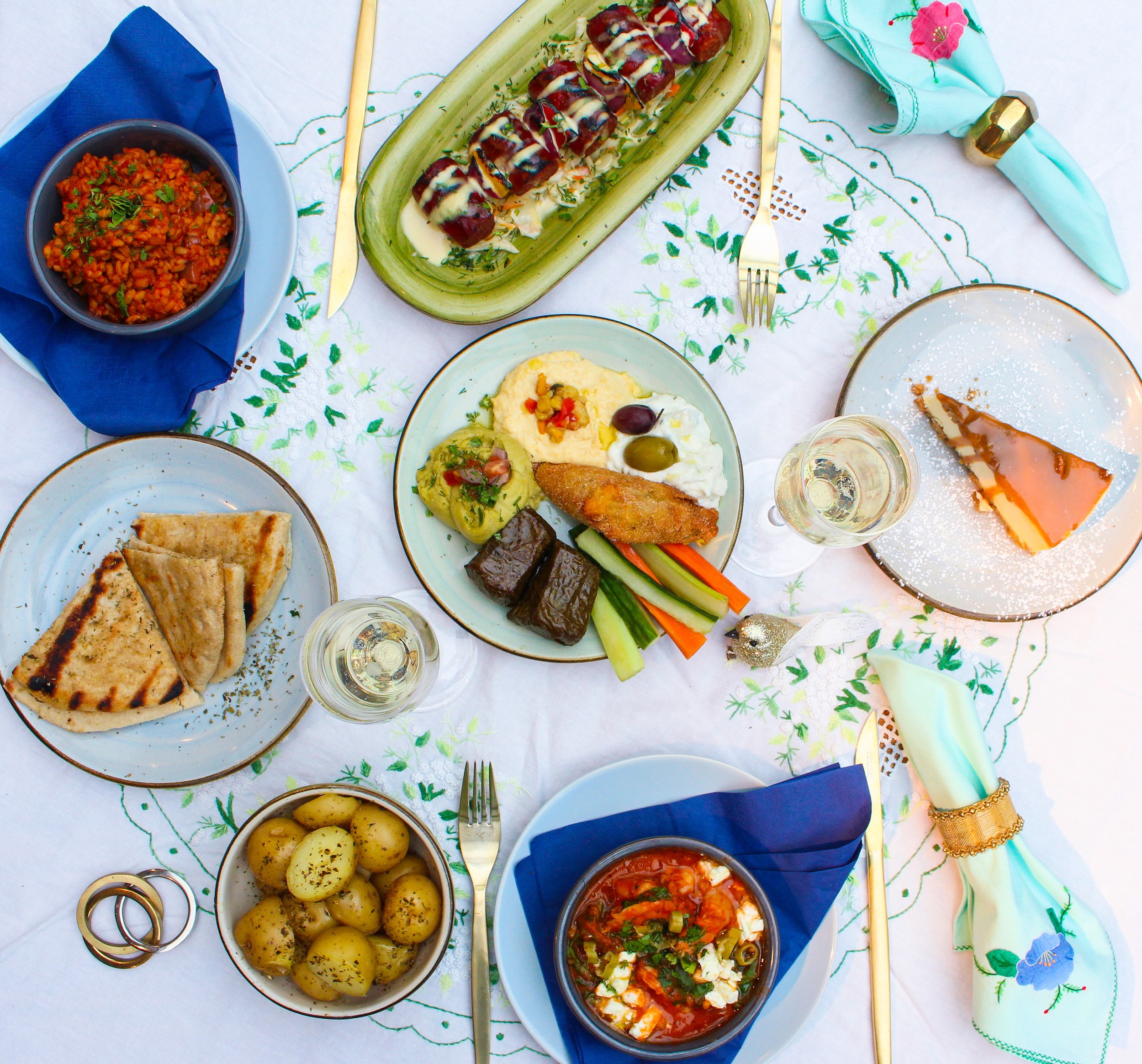 The Meze Platter is a perfect selection of some of our favourite starters: our creamy houmous, tangy tzatziki, delicious green pea fava, crunchy spinach tiropitakia, aromatic dolmades and olives with crudites and flatbread.
The main course includes the best of our hot meze; you can choose one meze from dishes such as lamb, pork, cod, prawns, halloumi, aubergines, chicken, vegan meatballs and Greek sausage- to name a few of the dishes on offer- and you can accompany them with one of the following Sides – from chips to new potatoes, to Greek salad to saffron rice.
Finish the meal off with honey-syrup drenched Baklava, our lush chocolate mousse cake or the creamy caramel & pecan cheesecake, Greek yoghurt with walnuts or a selection of ice creams and sorbets. It would be unacceptable of us to neglect to mention that we offer a spectacular wine list for you to accompany this festive meal!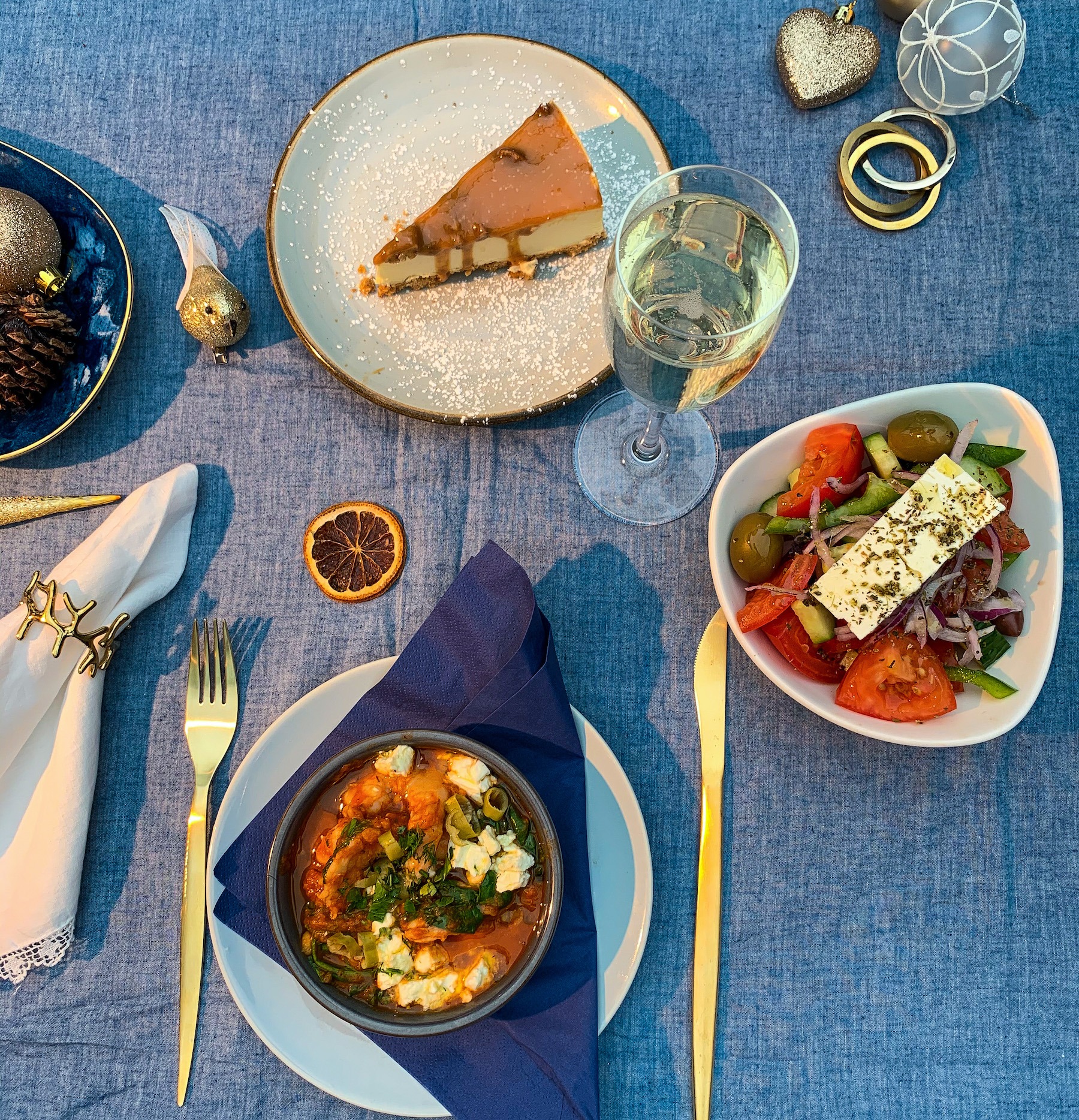 If this year has taught us anything, it will be to cherish the moments spent with our loved ones, to enjoy every little thing that brings a smile to our face and to not stress over the little things anymore, so make your bookings and come spend some happy moments with us, creating new, happy memories.
We would like to wish all of you a very merry Christmas, from the bottom of our Real Greek hearts!