The Greek diet has been the founding rock of what is known as the Mediterranean Diet. It was at first observed in Crete after WW2 when researchers tried to estimate what the lack of food had done to the health of the islands' inhabitants. They were amazed to find that despite the lack of food, the people were really healthy. Their diet during the previous years consisted mostly of carbs – bread and barley rusks, vegetables – many varieties of wild greens and vegetables, fruits and olive oil.
Meat was a rare delicacy at those times, as well as goats cheese and yoghurt, which were consumed in huge moderation due to the fact that people sold them instead of consuming them at home.
Things have changed since the post war era of course, however, up to this day, Greeks around the world will include 2-4 completely vegetarian and vegan dishes in their weekly household meal planning.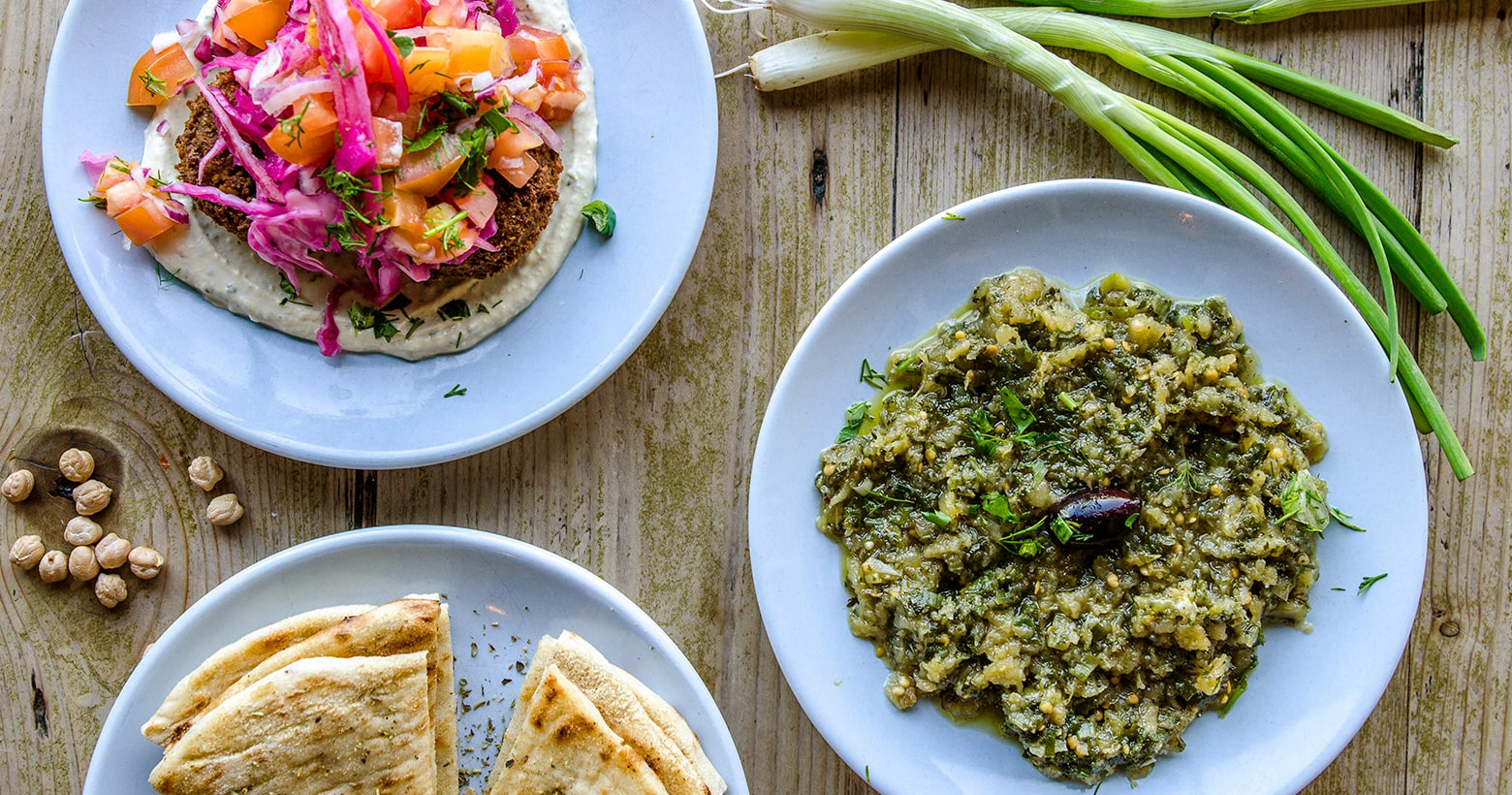 Don't get us wrong, we Greeks love our meat, but you will most likely find 'Fasolakia' – string beans in red sauce, or lentil soup, 'fakes', in any Greek mothers' steaming pot, more regularly than meat. Also, Greeks go through extensive lent periods, abstaining from all animal produce. This is rooted in ancient times and is not only religiously related – read more about this on our Sarakosti blog post.
As we like to say: Greeks were vegans before veganism existed!
Our menu here at The Real Greek has always been very balanced in terms of reflecting the Mediterranean diet, offering our guests dishes to suit all dietary requirements.
We already had a selection of more than 33 vegetarian and vegan meze. We love our veggies and thankfully, so do you!
Last year we endorsed the 'Sarakosti' (Greek Lent) concept with some special vegetarian & vegan dishes, and encourage Meat-Free Mondays. However, we felt we had to go a step further to please all our customers 100%.
With British vegans having a rise of 360% over the last 10 years – having gone from 150,000 to 300,000 in the last 9 years, how could we not acknowledge the need for new and exciting vegan menu dishes within our restaurants?
Our Executive Chef Alan collaborated with Tonia Buxton, who both worked intensively on the new vegan menu that will launch within all of our restaurants on 21st March 2018.
We couldn't be more excited about the quality and flavour of the new dishes, which were created with traditional Greek cuisine principles, and using only excellent produce, some of which is sourced directly from Greece.
We have included many new Greek favourites such as: Santorini fava – the famous yellow fava; spicy walnut and red pepper dip – popular in all of Eastern Greece;moussaka – cinnamon bliss made with jackfruit instead of meat; green beans – the aforementioned 'Fasolakia'; braised artichokes – 'aginares ala polita' lemony artichoke hearts; Cypriot Pourgouri and Souvlaki Wraps with jackfruit gyros to name a few! We believe that this is a menu that will appeal to all, not just our vegan guests, as the flavours are just amazing, and all dishes complement each other perfectly to create filling, balanced, healthy meals.
We can't wait to hear your thoughts and comments on this menu, after tasting the amazing meat-free options our team has put together for you!