This is the collaboration of five famous Greek chefs,  Spiros and Vaggelis Liakos (of Base Grill and Travolta), Nikos Karathanos (with two Michelin star awards from Hytra),  Periklis Koskinas (previously chef at Alatsi and the  unforgettable creator at Milos) and Manos Zournatzis (previous chef and co-owner of Cucina Povera).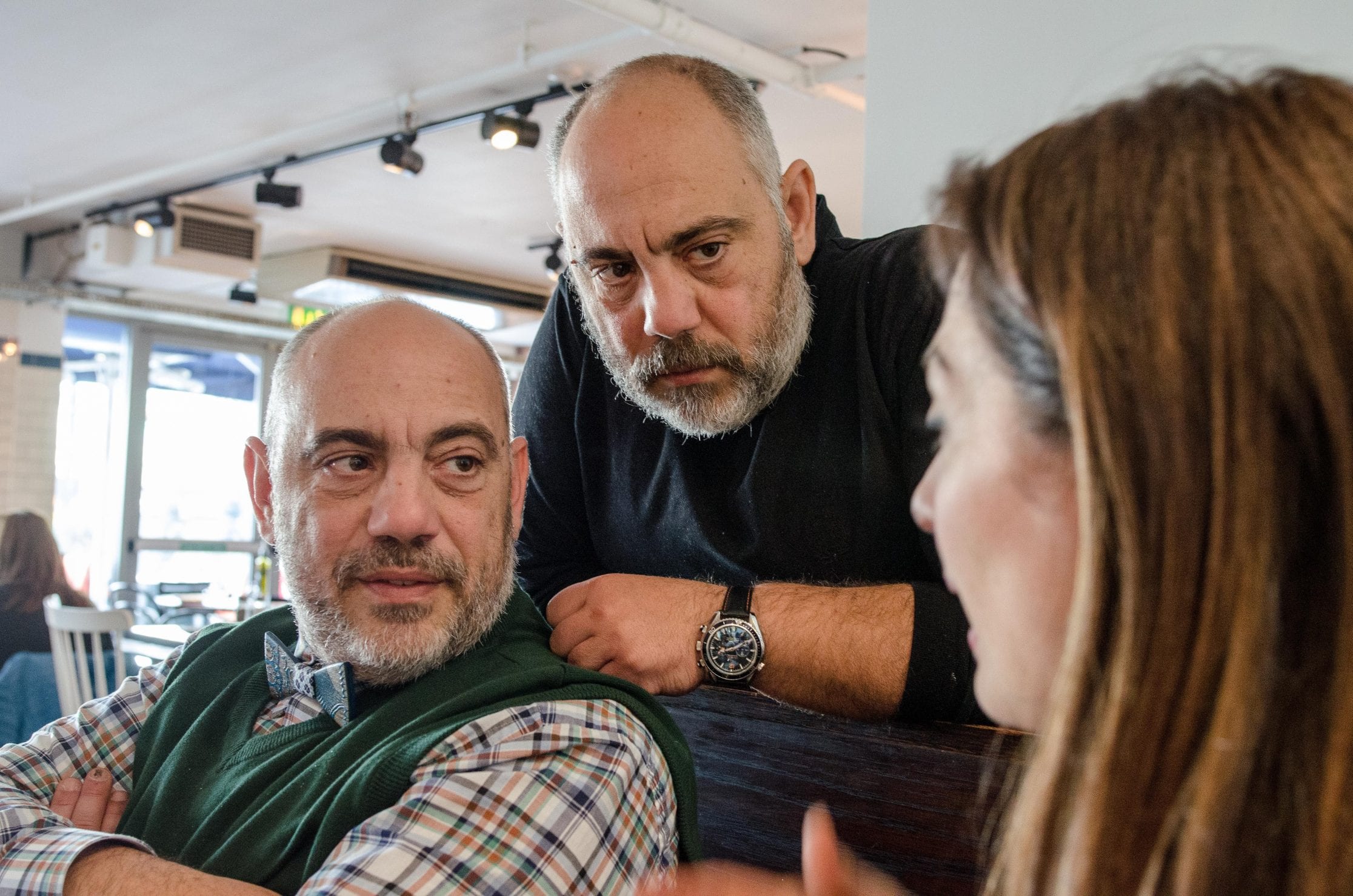 These are the same guys that the lucky few of London came to sample on their one-night restaurant takeover at The Real Greek in Bankside. Everything was amazing and unlike anything being done with Greek food in London right now. So while in Athens why now drop in and see what they're up to on their home turf.
What happens when five of the best chefs of Athens, join their powers and open their own restaurant?
Cookoovaya has the "wise cuisine" as its central philosophy. But, what does "wise cuisine"  mean? This is what we went to find out downtown in Athens that warm Tuesday evening.
The menu is simple. So is the description of the dishes. At this point, you start feeling that the 'game will be played' with the ingredients and the implementation.
I'm not going to describe each dish as each one was exquisite.  These were all real Greek dishes that brought back childhood memories reminding us of home cooked food and neighborhood eateries that are never forgotten.
Cookoovaya's Greek tiger prawns with tomato, sweet pepper and feta from Naxos were perfection in every way.
Beef carpaccio with gorgonzola dolce and truffle vinaigrette.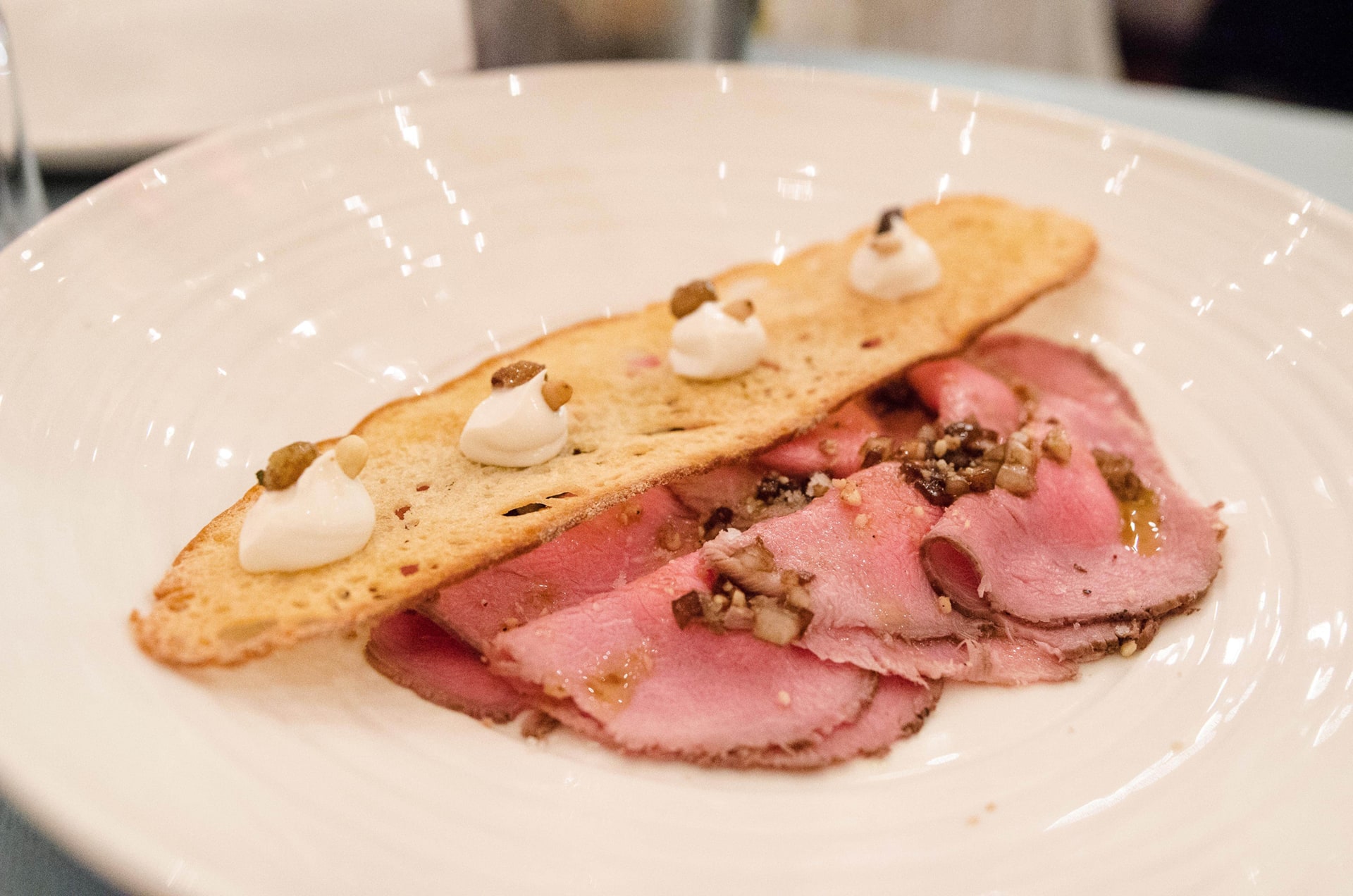 Beef fillet tartare with smoked pepper oil, Ios island cheese and sepias ink bread is one dish that a few of the less adventurous at the table shied away from. But if you're going to dabble for the first time with tartare, why not let the masters cook make it for you?!
This is the dish that blew my socks off. I'm usually a little aubergine adverse as if it's not done perfectly it can all end in a slimy mess. Not so at Cookoovaya. Their smoked aubergine assiette with parsley pesto and tomato tartare comes served as pictured but then one of the chefs will come over and and smash it all up, mixing all the different flavours and textures together. Once combined it's a little like Captain Planet got involved and with all their powers combined….
If tiropitakia are ever on a Greek menu I have to order them as this is a good line in the sand. This tyropita with feta cheese and graviera was huge and I ate pretty much all of it as the table was starting to slow down on their food intake.
When in Rome kinda stuff happening here. Greek salad with Naxos feta cheese. Just order it.
It's great to see that vegetarians are very catered for (and if you have a coeliac in the mix then they'll happily look after them too. Stuffed tomatoes filled with feta cheese, potatoes and thyme. Doing what the Greeks do best.
Moussakas. Enough was said by the groaning and exclamations from the Greeks I dined with.
Ladenia is a Greek version of pizza. I've been on the search for a deep dish pizza in London (no luck) but this one straight out of their fired up oven was heaven!
It was about this time that I didn't need any more meat. Still that's not going to stop a carnivore when this skirt steak with themed mushroom puree and steamed wild rice hits the table.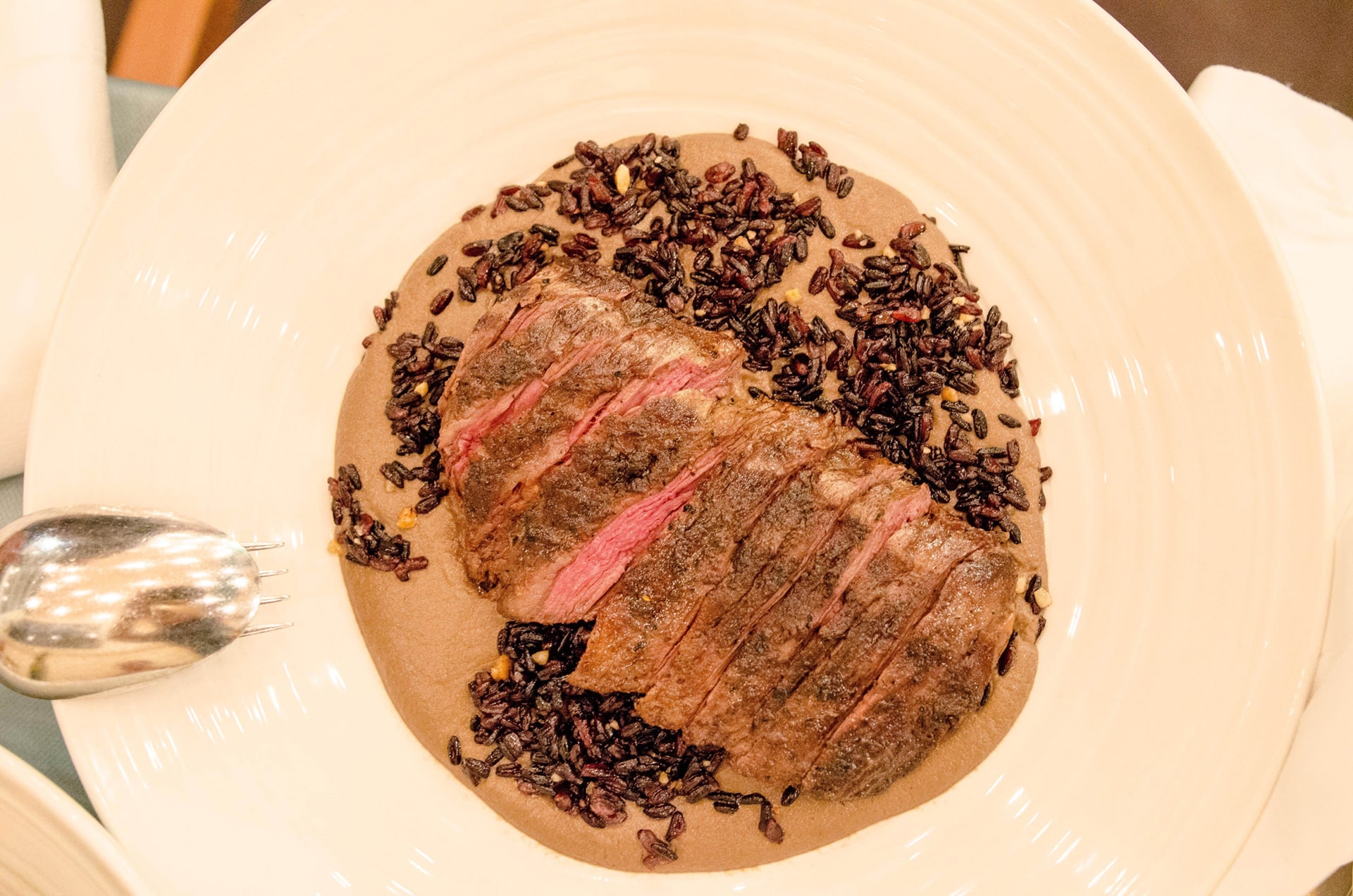 I had been chasing souvalkis around Athens all day but when presented with Cookoovaya's take as an open souvlaki – I really appreciated that they took the authentic and made it their own.
Desserts. Orange pie with yogurt ice cream was a nice light take – more of a polenta sponge and I'm finally cheering that we've into the last portion of what is an amazing experience.
I have never had enough tarte tatins in my life. They always seem to be squirrelled away in posh French restaurants or served as a whole pie that you need four or more people to all agree to order the same dessert in order to get one. So imagine how I felt when the pear tarte tatin for one with butterscotch and vanilla ice cream was presented to me.
The bougatsa was one of the highlights from their residency in London. A specialty of one of the chefs in the group, the crunchy phyllo, vanilla cream and cinnamon ice cream is presented as a quivering stack at the table before being physically bashed down with large silver spoons. Shards are then able to be scooped up with the ice cream and cream to get a little messy before you head out bar hopping.
But before we could leave, some cherry pie was placed on the table with the espressos we all order in order to function once we entered the real world again.
The end result, I have a feeling that we just witnessed the birth of a new Greek cuisine; a cuisine that has a strong base in the Greek tradition but one that has evolved without betraying it.   If you ask me if I have ever tried dishes like this before I would answer without hesitation, yes.  But here is the difference, this cuisine has an overall combination of space, service, style and dishes which are the emergence of five of the most emblematic Greek chefs.
Cookovaya will create trends.  Those who are impressed only with stunning visual dishes and expensive ingredients won't be attracted because the work done at Cookoovaya is something more profound and real.
Contact: Cookoovaya – 2A Chatzigianni Mexi str. GR 115 28 Athens. Ph. +30 210 7235 005. Daily 13:00 – 01:00. Website.