Easter is one of the most important religious holidays for us Greeks. People go to church a lot, fast during the Holy week leading to Easter Sunday and the 40 days before that. Our #40daysofveg action was all about that!
Traditionally we dye red eggs on great Thursday, attend the 'Anastasi' service on Saturday, and enjoy 'magiritsa' soup on that night.
Then comes what everyone had been waiting for. Easter Sunday, a day of happiness, love and joy. People celebrate on Easter Sunday with friends and family in a joyous atmosphere, with lots of roasted lamb, red egg smashing, and tsoureki, the traditional sweet bread.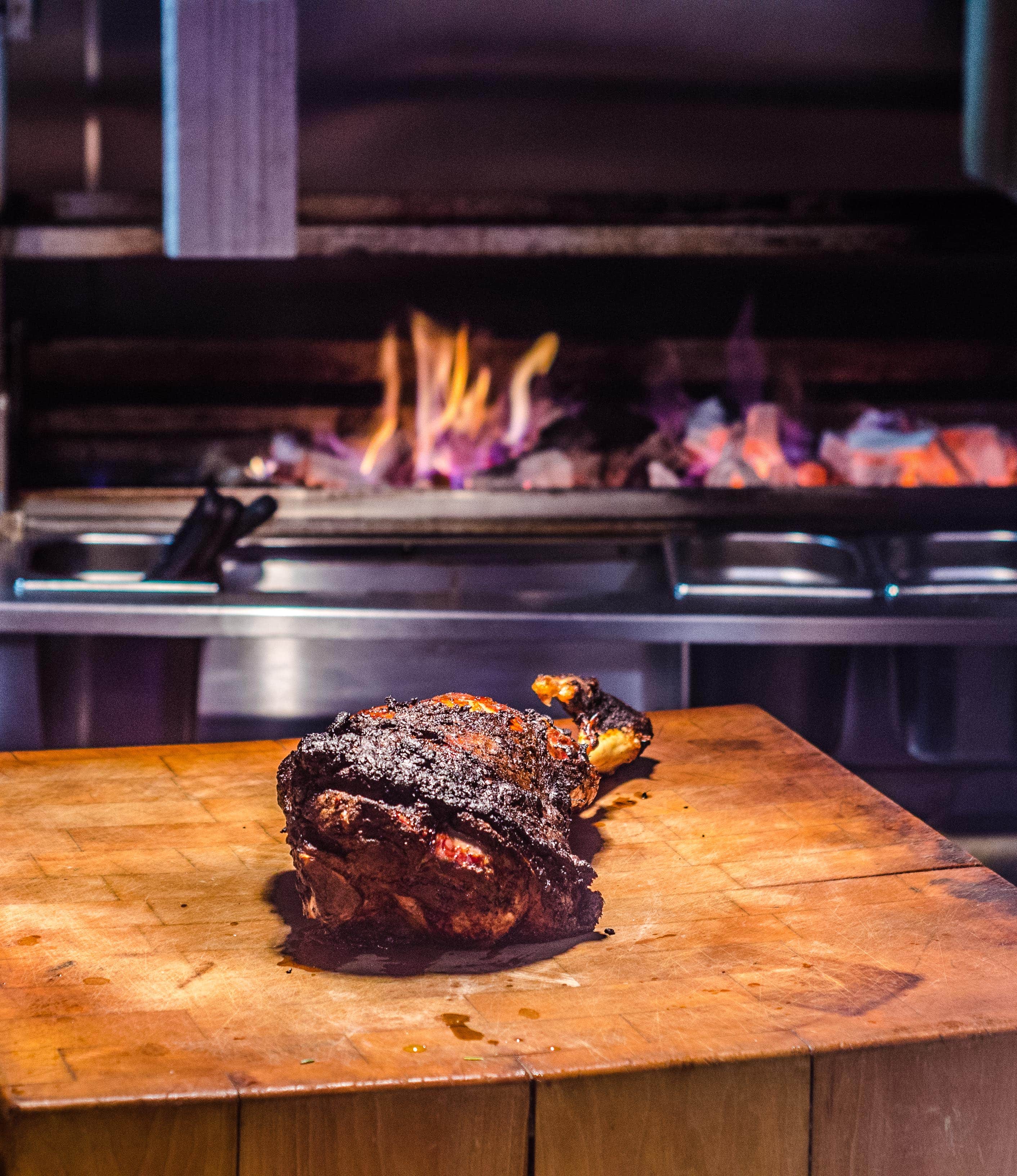 Many of these Easter traditions that we follow to this day, originated before the beginning of the Christian era. They go back to ancient times when people would hold rituals to celebrate the arrival of spring.
One of the most important symbols associated with Easter is the lamb.
The lamb was sacrificed in the Passover festival, so the custom prevailed, and the lamb is still up to this day served on Easter Sunday in many European countries.
In Greece, the main customary attraction of the day on Easter Sunday is the whole roasted lamb on the spit. The grills are fired up on the dawn of that day, and usually the men of the family take turns in spinning the lamb slowly so that by early noon it is ready to be eaten by the happy crowds!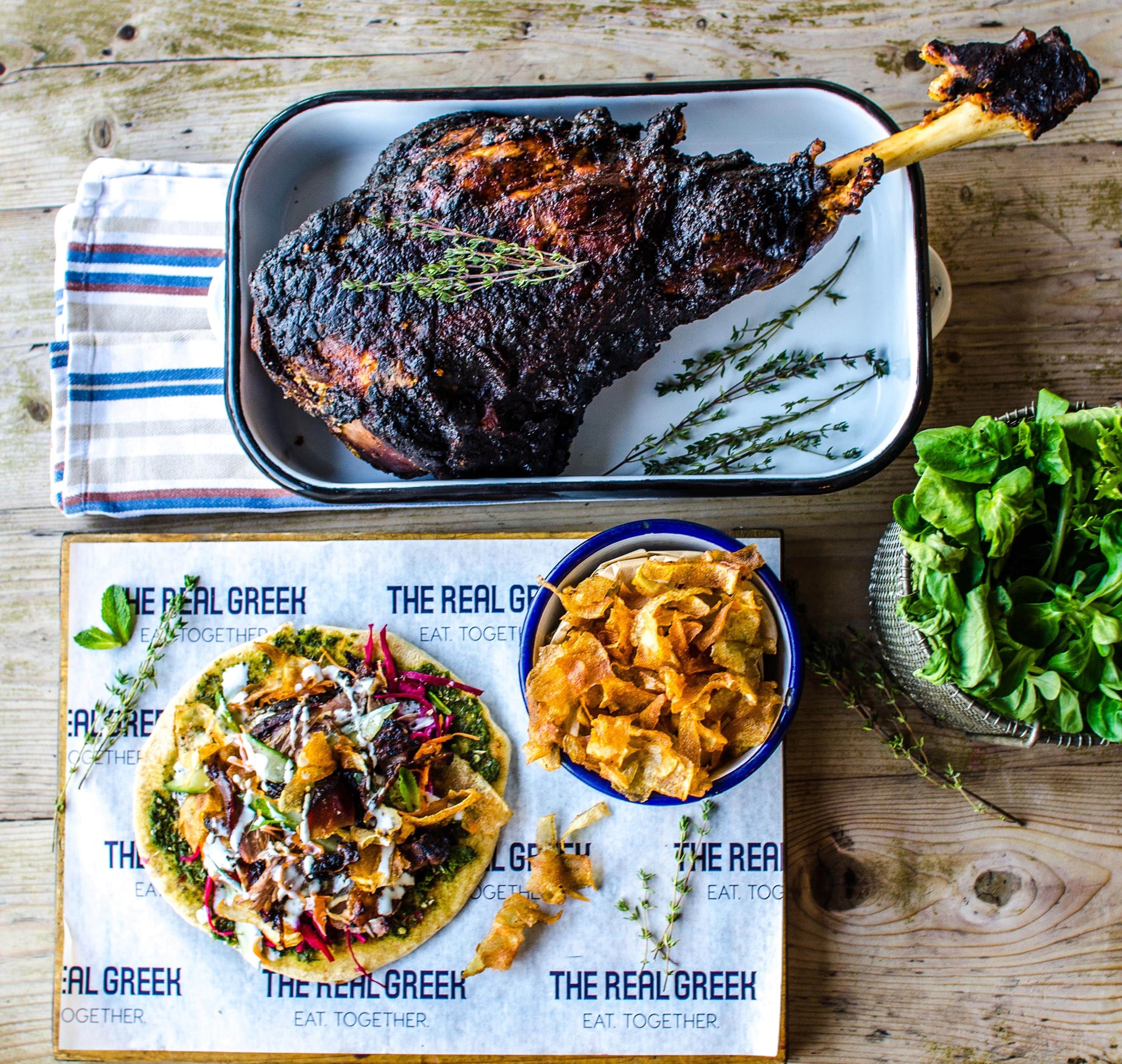 This year here at The Real Greek, to honour this tradition we have created the ultimate lamb dish: the Smokehouse Souvlaki.
Our executive chef Alan May, has partnered up with HotBox's legendary grill chef Lewis Spencer, to give the renowned Greek national dish a taste of HotBox's signature smokehouse skills!
An open souvlaki, piled high with flame grilled lamb shoulder, marinated in a Greek yoghurt sauce, with a topping of Katiki cheese-a combination of feta with Greek yoghurt-red pickled cabbage and a green herb paste.
To top all of this off, the Smokehouse Souvlaki is served with potato crisps and two new sides: Greek Horta side salad with olive oil, feta and beetroot on a bed of leaves and Roasted Fennel with Kalamata olives, topped with anchovies, capers and a fresh sprinkling of dill.
This one-of-a-kind dish is the result of the first collaboration ever to be made by us, and as The Real Greek Executive Chef Alan May puts it: "As it's Greek custom to cook lamb at Easter, the Smokehouse Souvlaki created by HotBox and The Real Greek is a match made in heaven, and the ultimate fusion dish-giving lamb the respect it deserves."
This amazing special will be available at The Real Greek Soho only from Wednesday the 12th of April, until Saturday the 15th, during lunch and dinner, so…don't miss it!
Happy Easter to all, or as we say in Greek: 'Kalo Pascha'!