Famous worldwide, the delicious stuffed grape leaves rolls -dolmades – are one of the foods we consume all year round.
Filled with a mix of rice, herbs and onion, these Greek delicacies are also one of our favourite dishes to suggest to our guests, especially the vegan and vegetarian ones!
As the coming month is World Vegan Month and it also marks the 75 years of The Vegan Society, we will pay a tribute to the humble but also spectacular dolma.
The food that has become a firm favourite of people of all cultures. If you want to know how and where it all started and more about the dolmades we serve in our restaurants, read on!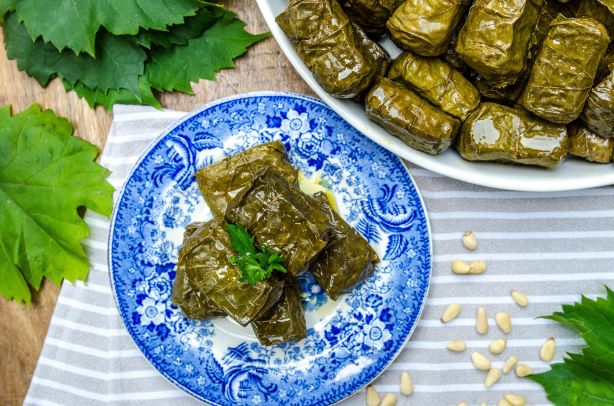 Dolmades are a food you will find in many variations in every area of Greece and in every season. The name 'dolma' has been borrowed by the Greeks from the Turks, however the food itself stems from ancient Greece.
In ancient Greece, dolmades were called 'Thria' -Θρία- and were made with tender fig leaves! As centuries passed, the idea was adopted by the Ottoman Empire's cuisine, while we Greeks adopted the Turkish names.
That is why their name varies from area to area: 'Sarmades' from Turkish 'sarmak' which means to wrap, 'Yaprakia' from 'yaprak' which means 'leaf' and 'Dolma' from 'dolmak' which means to fill.
The ones without any meat filling are called 'Yalantzi' from the Turkish 'yalan' meaning fake. The notion of non-meat filling was unknown to the Ottoman cuisine, so the rice, herb and pulse fillings were considered to produce 'mock' dolmades.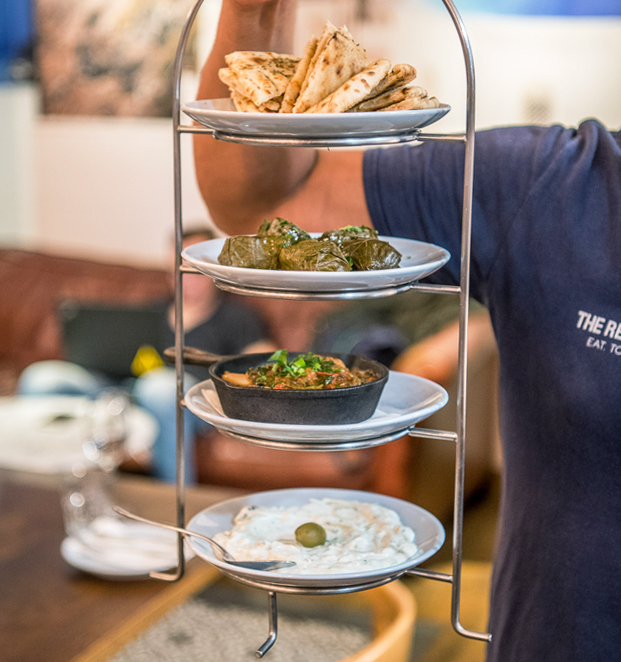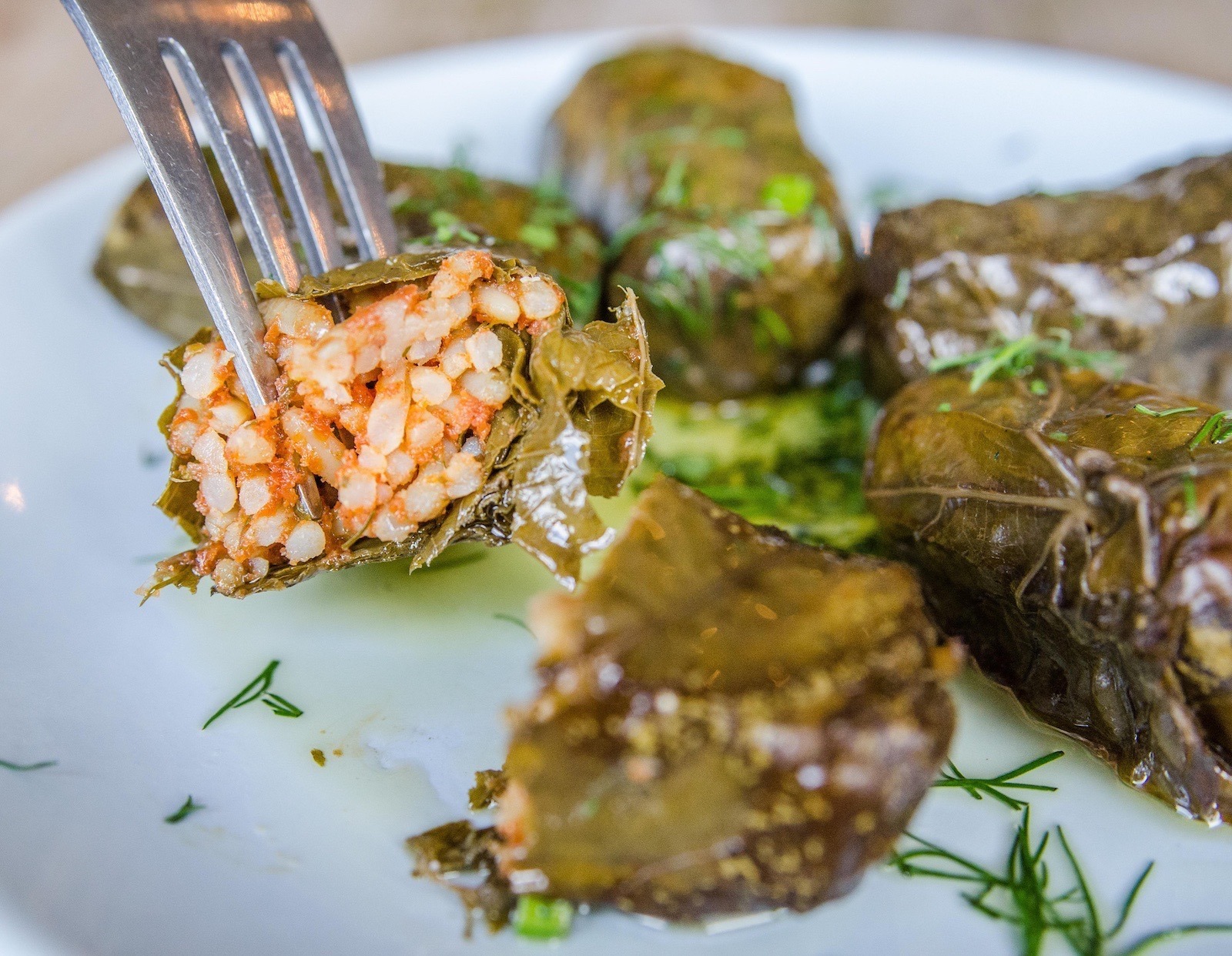 The variations you can find the dolma in, are many and very interesting; Dolmades can be made with an array of different ingredients and leaves; In the past, when vine leaves were not available in the winter, borage leaves were used. Nowadays, you will find cabbage leaf dolmades- 'lahanodolmades', made all over Greece.
In many areas, basil or sorrel leaves were used traditionally, as well as lettuce. In Crete and other islands they make dolmades with courgette flowers, in Symi they use cyclamen leaves and fill them with lentils or fava.
The dolmades in Cyprus are called 'Kupepia' and they have a strong presence of cumin and lemon. The tiny dolmades of Kasos island, are famous for their miniature size and lemon- meat filling. Dolmades also come with different sauces: egg and lemon sauce 'avgolemono' or in some islands with tomato sauce.
However many the variations though, one thing is for sure- Greeks love their dolmades! The most popular being the ones made with vine leaves and filled with rice and herbs; as they are great for periods of lent, easy for the average household to make and very very tasty!
We know you love them as much as we do, as we wrap around 2,200 dolmades daily to serve in our restaurants. All done by hand in the traditional way, with a super tasty filling. We source the leaves directly from Greece, as we want our dolmades to have the most authentic flavour possible.
Our vine leaf supplier is Lisko Foodstuff Ltd, based in Larnaca, Cyprus; A family run small high-end factory of artisan produce that provides us with the best quality of fresh-frozen vine leaves.
Our producer says: "The best vine leaves to make dolmades with, are those of the Sultanina variety. They produce light coloured and silky leaves. The best time to collect vine leaves is in May, and all through spring.
Air drying the leaves is a thing of the past; People used to hang them in a shady place to dry and then dip them in boiling hot water to use in the winter. This method is now forgotten and the vine leaves are mostly kept in brine, or like in our case,  flash-frozen".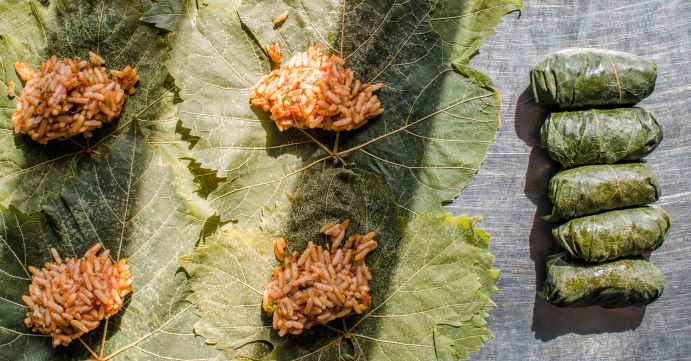 All history details aside, we believe our dolmades are representative of how a great dolma should look like and taste. We use Greek rice, fresh herbs and extra virgin Greek olive oil to make them, so you get a Real Greek experience in every bite.
This month we know we'll be wrapping extra quantities and we are happy about that. We believe our cuisine has the ability to offer simple yet extra flavourful dishes to all vegans out there. We do love to cook and eat our veggies, after all!
If you'd like to try making our own version of dolmades at home, here is the recipe from our cookbook which you can also find here!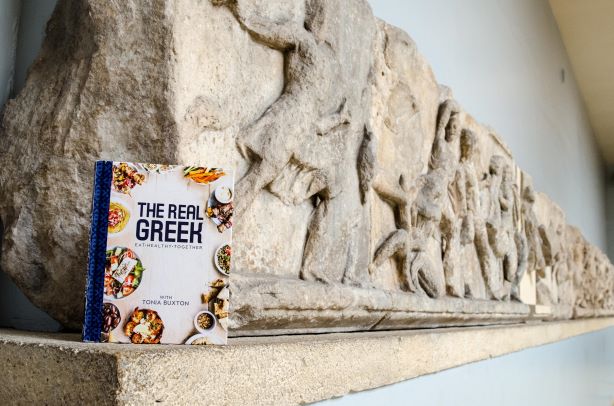 Dolmades by Tonia Buxton
Dolmades are often served as part of the meze at wedding feasts in Greece – a great excuse for village women to meet up beforehand to roll hundreds of dolmades whilst catching up on local gossip!
In Cyprus we call dolmades 'koupepia', which means 'little cigars'.
Serves 4 as Meze or
makes 20 dolmades
250g long-grain or pudding rice
2 onions, finely chopped
1 bird's eye chilli, deseeded and finely chopped
250g passata or 400g can chopped tomatoes
4tbsp finely chopped flat-leaf parsley
4tbsp finely chopped dill
2tbsp finely chopped mint leaves
250g fresh vine leaves, destalked (or use leaves in brine, drained)
Sea salt & freshly ground black pepper, to taste
A drizzle of extra virgin olive oil
2 lemons, cut in wedges
Bring 500ml water to the boil in a large saucepan, then add the rice with a good pinch of salt. Part-cover and reduce the heatto simmer for 12-15 minutes or until the rice is just starting to soften.
Preheat the oven to 180C (fan 160C) / gas 4.
Drain the rice and leave to cool a little before mixing in the onion, chilli, passata and chopped herbs. Season well.
Have a stack of the prepared vine leaves ready, vein-side facing up, the rice mixture and a shallow (preferably circular) ovenproof dish ready to put the dolmades in.
To make a dolma, place 1 tsp of the mixture one third up from the centre base of a leaf, fold the leaf over the rice from the base, then fold in the left and right side of the leaf. Roll up the leaf to make a mini cigar shape.
Continue until all the dolmades are made and tightly packed side by side in the dish. Squeeze over the lemon juice, then cover the dolmades with the remaining vine leaves.
Place a plate upside down on top of the vine leaves, then pour boiling water in around the edge of the dish to come up to just where it touches the plate. Cover with foil and transfer to the oven to cook for 30-40 minutes.
Serve warm or cold with a drizzle of olive oil or ladolemono and some lemon wedges.