This week, four of our restaurant kitchens are up and running for delivery service, and we couldn't be more excited! 
You can now order our delicious Greek food through UberEats, Deliveroo or via Click & Collect- check here for specific locations.
If you're amongst those who have already ordered, we want to thank you from the bottom of our hearts, for your trust in us and for the great feedback.
We apply the strictest hygiene rules in our kitchens, following the suggested health and safety regulations and taking care to keep both our staff and our customers safe
What makes us even more excited, is that now on UberEats, and on Deliveroo, under the 'Cupboard' category, you are able to find some of our most beloved Greek products to order at home!
Cheese and wine lovers rejoice because now you can combine your meze with all of our excellent Greek wines and those wines, with some amazing Greek cheese.  You can also find olives (perfectly paired with Retsina), extra virgin olive oil, Greek coffee and Greek yoghurt amongst other things, all for the best prices.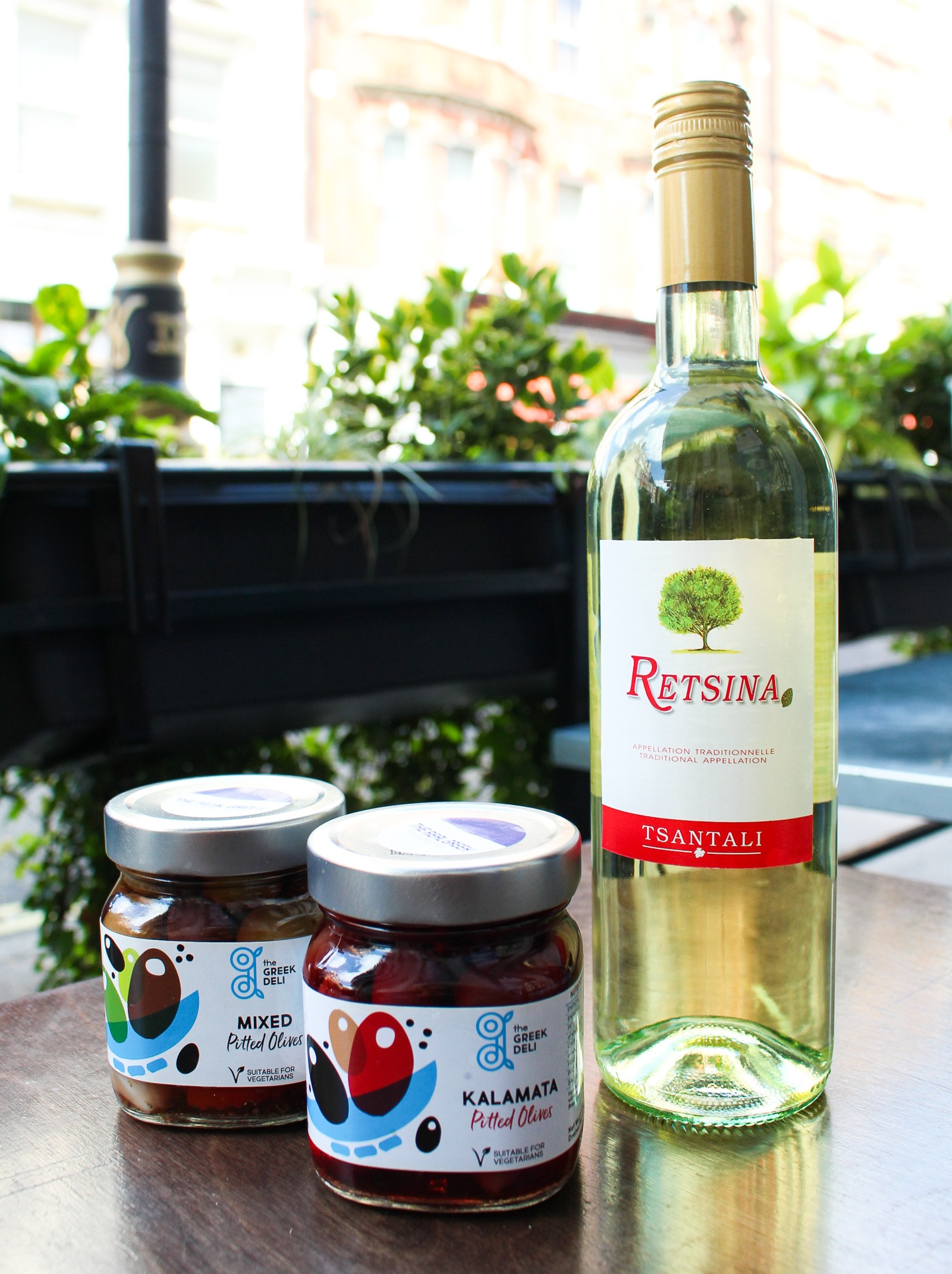 We can't help but talk a little more about our cheese selection because it consists of some of the best Greek cheese varieties you can find. Here's a small wine pairing list, to tantalise your taste buds. 
Let's start with the queen of all Greek cheese, Feta. 
Our Epiros Feta (PDO), is an awarded PDO feta, made from sheep's and goat's milk. You can read more about it here.  It's rich in taste, smooth and creamy in texture and pairs perfectly with our own house white, Ellinas. 
Ellinas White, one of our most popular wines, is specially bottled for us in Thessaloniki; it's a dry, delicate and floral wine, with hints of summer fruit on the palate.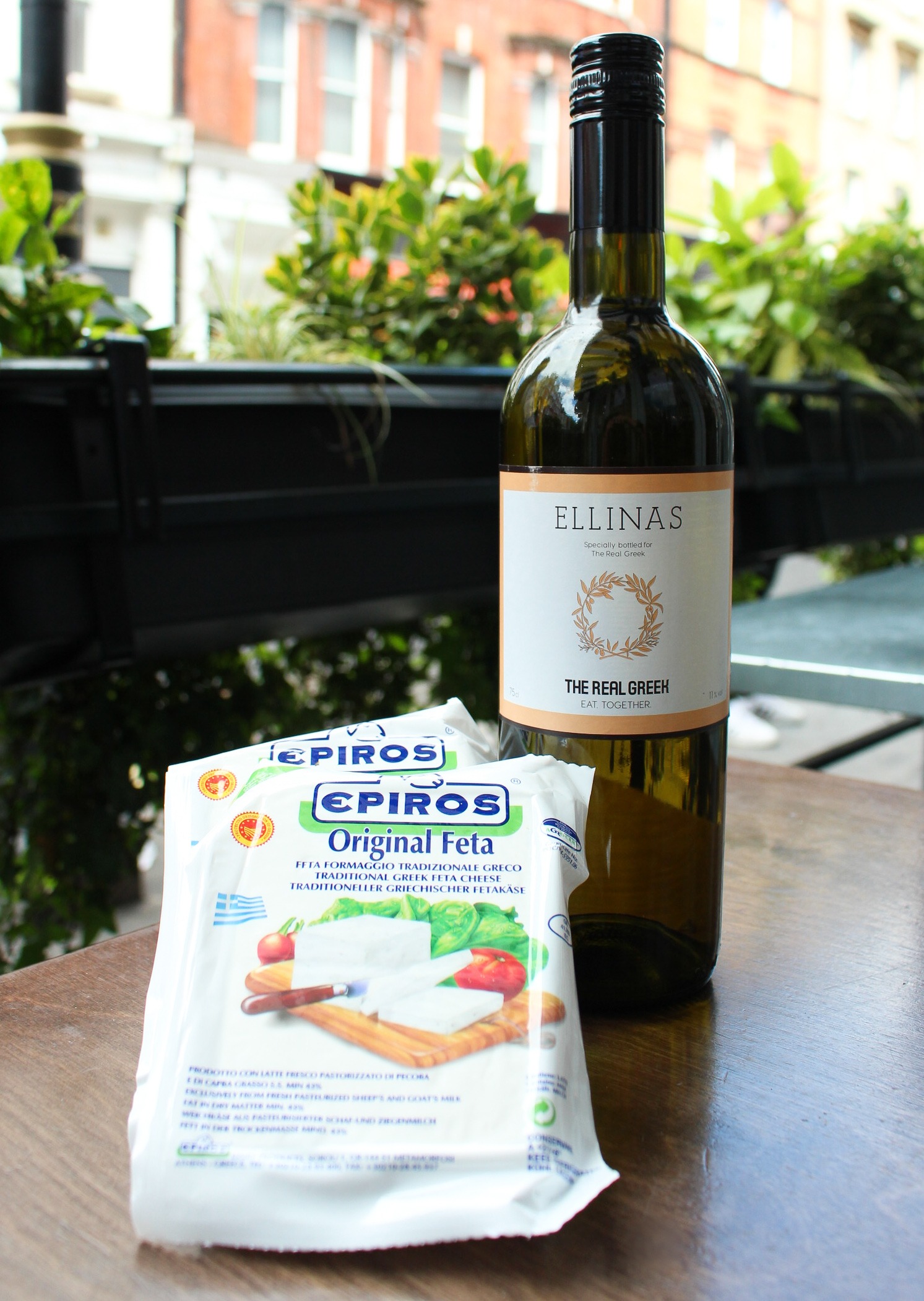 Our delicious Goat Cheese, made of 100% free-range goat's milk, from goats grazing the Epirus flora, is bright white, spicy and peppery. It's been made in Greece since ancient times and is exceptionally beneficial! Rich in calcium, vitamins and nutrients, we Greeks use it as a table cheese and accompany it with wine or ouzo.
A perfect match for it is the Athiri wine, from the Halkidiki region. Fresh and fruity, this medium-bodied wine is exceptional!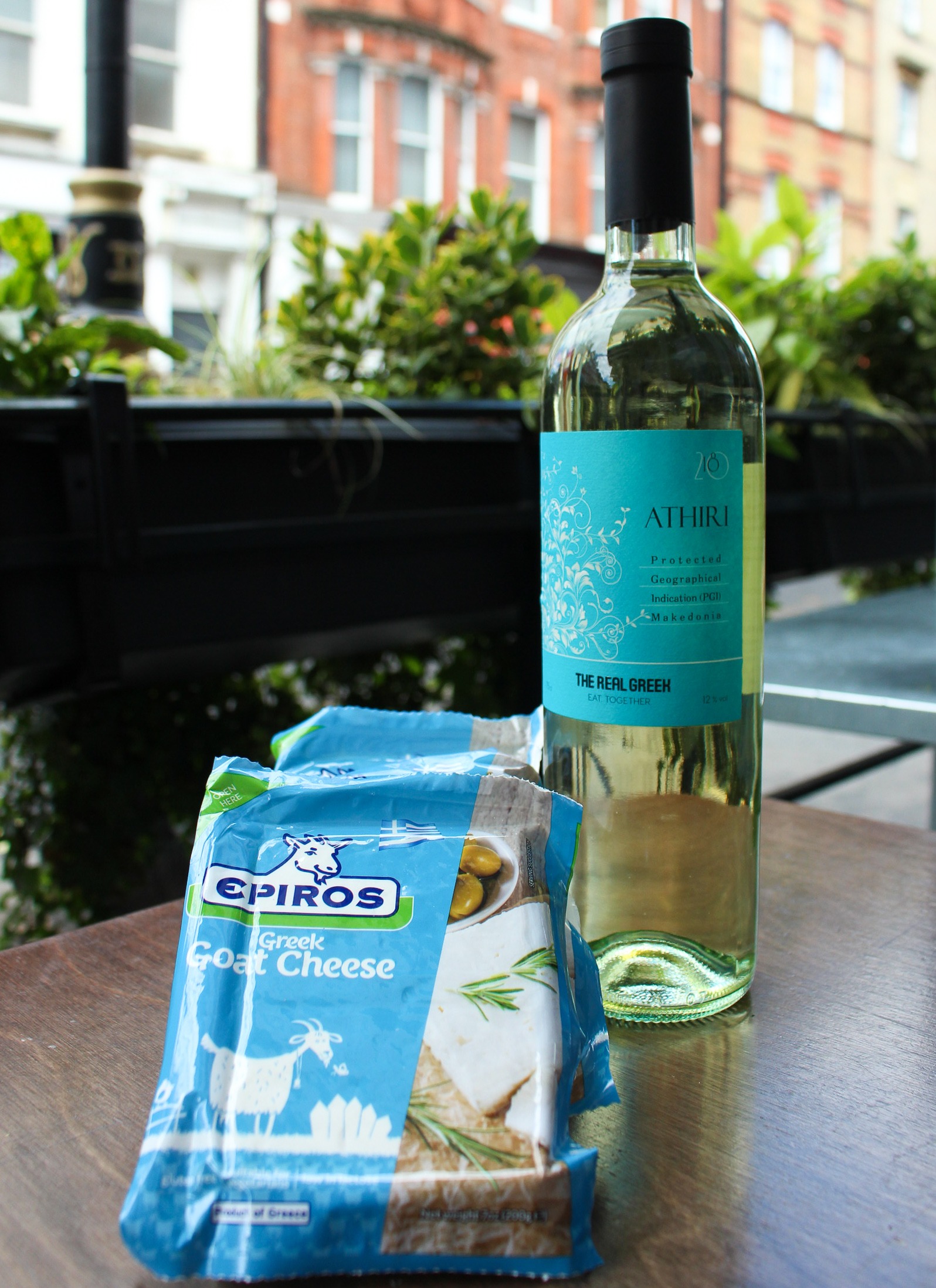 Kefalograviera, a PDO produced exclusively from goat's and sheep's milk, is the epitome of a traditional Greek hard cheese. A cross between Kefalotyri and Graviera, it has a characteristic spicy, yet mellow taste. Perfect to grate over pasta, to cook with, or fry as a 'saganaki'. Also, great paired with a Merlot! 
Our Merlot has the intense aromas of dark red fruits- think cherry and wild plum- which complements this delicious Greek cheese perfectly. 
Our Kefalotyri, a sheep's and goat's milk saltier than graviera, rich in flavour and aroma, is ideal for pasta and pies. A sharp flavoured and dry textured traditional frying cheese- perfect as well for saganaki- it pairs well with a smooth red, like Kanenas.
Kanenas Red, one of the favourite red wines of us Greeks, is known for its complex palate with red fruit aromas and a velvety smoked taste.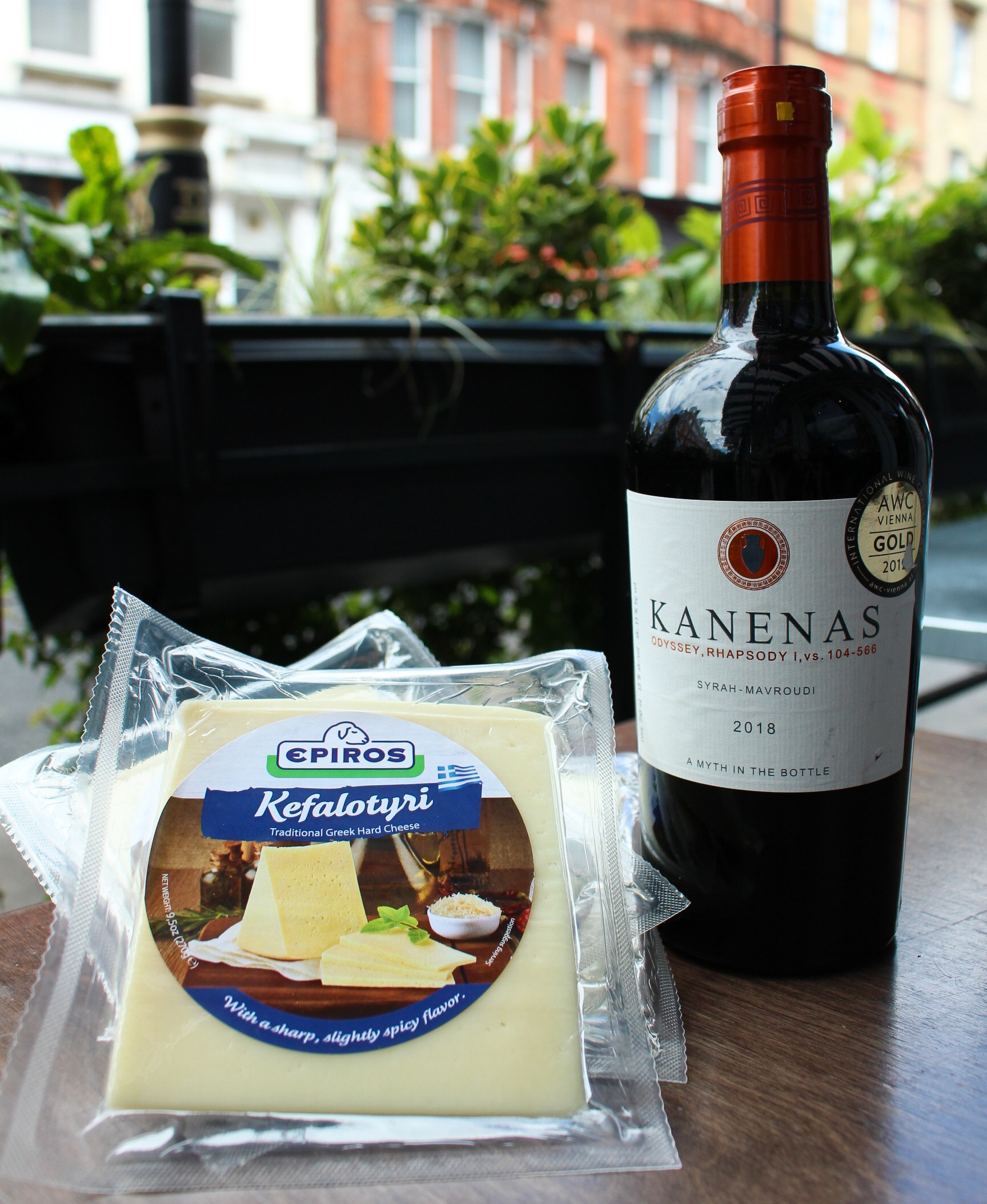 Mizithra, a fresh cheese made with a mix of sheep's and goat's milk and whey, is believed to be the ancestor of all Greek whey cheeses. It resembles Ricotta and our Epiros brand version is aged, thus hard, making an ideal grating cheese that can be served over anything! 
For a unique experience, pair it with Kanenas White wine.  
Kanenas white, a dry white made by a bland of Muscat of Alexandria with Chardonnay grapes, is a round, elegant and versatile dry white wine, with a velvety, creamy texture. Think exotic fruit and citrus aromas, with a gentle touch of floral essence. 
Our Epiros Talagani cheese is the ultimate handmade grilling cheese! Talagani is a traditional Greek cheese, made of sheep's and goat's milk. This award-winning cheese is made from a traditional family recipe and whilst grilled, maintains its rich taste with subtle hints of spearmint. Talagani keeps its shape when grilled and doesn't melt. Ideally paired with the Makedonikos Rose– a match made in heaven!
This vibrant rose is made from Xinomavro and Syrah varieties and is light with hints of strawberries and pomegranate. The palate is dry and light-bodied, and its fruity finish is balanced by a crisp acidity.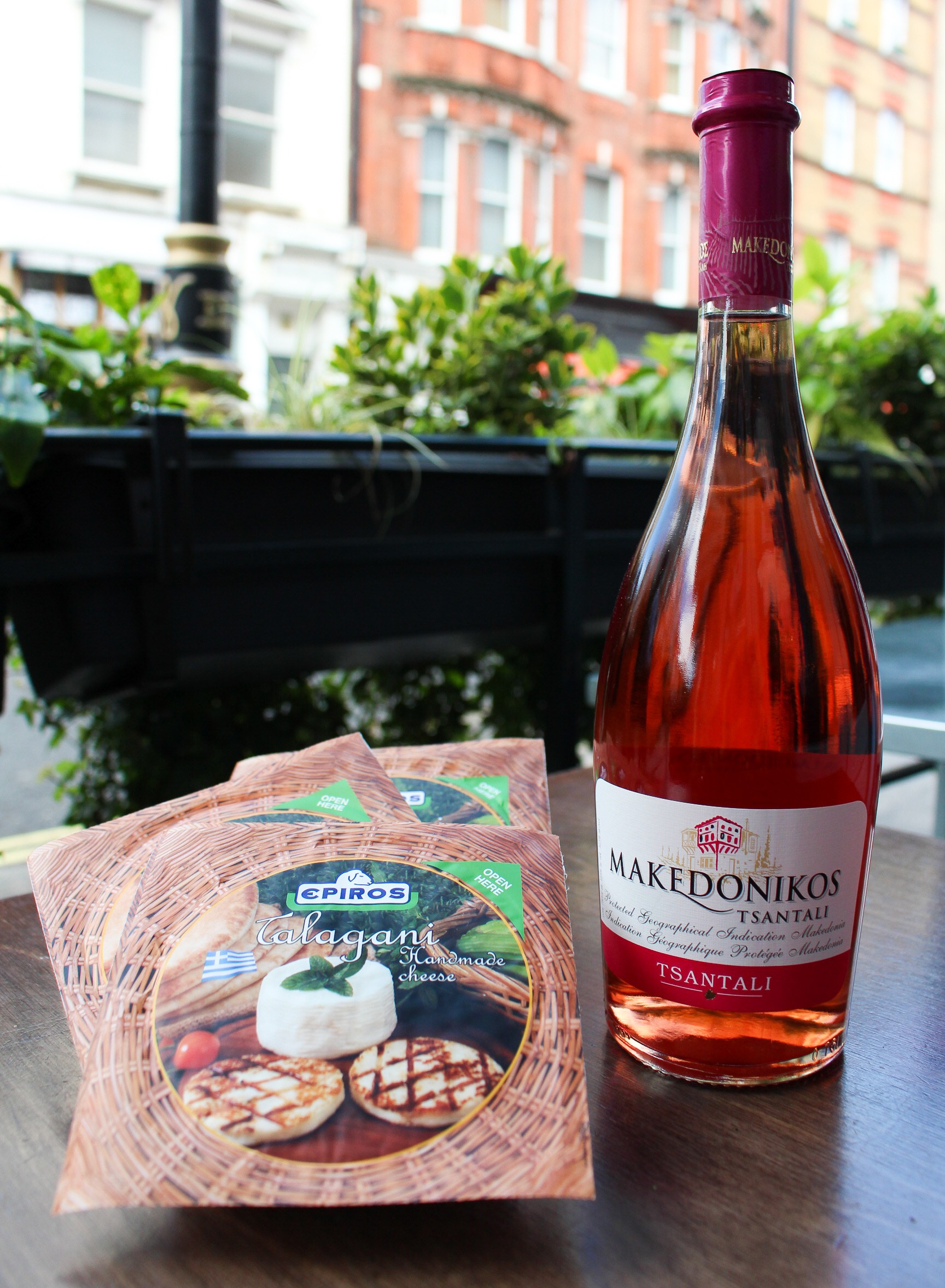 On to another unique Greek cheese, our Katiki Domokou, a fresh white creamy cheese. Katiki balances a rich flavour and a creamy texture, with less fat. Made with a secret recipe leaked across generations, this cheese consists exclusively of sheep's and goat's milk. Cook with it, use it to make desserts or mix it with herbs and eat it as a spread- it's uniquely delicious. 
Pair it with Cavino- Ionos White. This easy-drinking summer white is produced from Roditis and Moschato variety vineyards at altitude on the coastal slopes of North Peloponnese. With citrus fruit hints like lime and flowery notes like elderflower, its elegant and balanced, with a fruity after-taste.
Manouri, a traditional Greek PDO whey cheese, is a mild, velvety cheese. Its lightly salted, with a milky, creamy and even nutty taste. It can be eaten as it is, or slightly grilled, both with sweet and savoury foods.  It's delicious served with fruits, nuts and honey and a deep red wine.
Ellinas Red, with its inviting ripe berry fruit aromas, is a perfect match for manouri!
Dirollo Cottage cheese, a skimmed cow's milk cheese, is high in protein and low in fat. It is delicious eaten neat or in salads and can be added over any food, replacing cream cheese. Try it with honey as a delicious and super beneficial dessert. 
The soft aromatic flavours of our Pinot Grigio complement this cheese best. Our beloved Italian white has a playful nose of white peach and pears and hints of roses. A favourite amongst our diners always!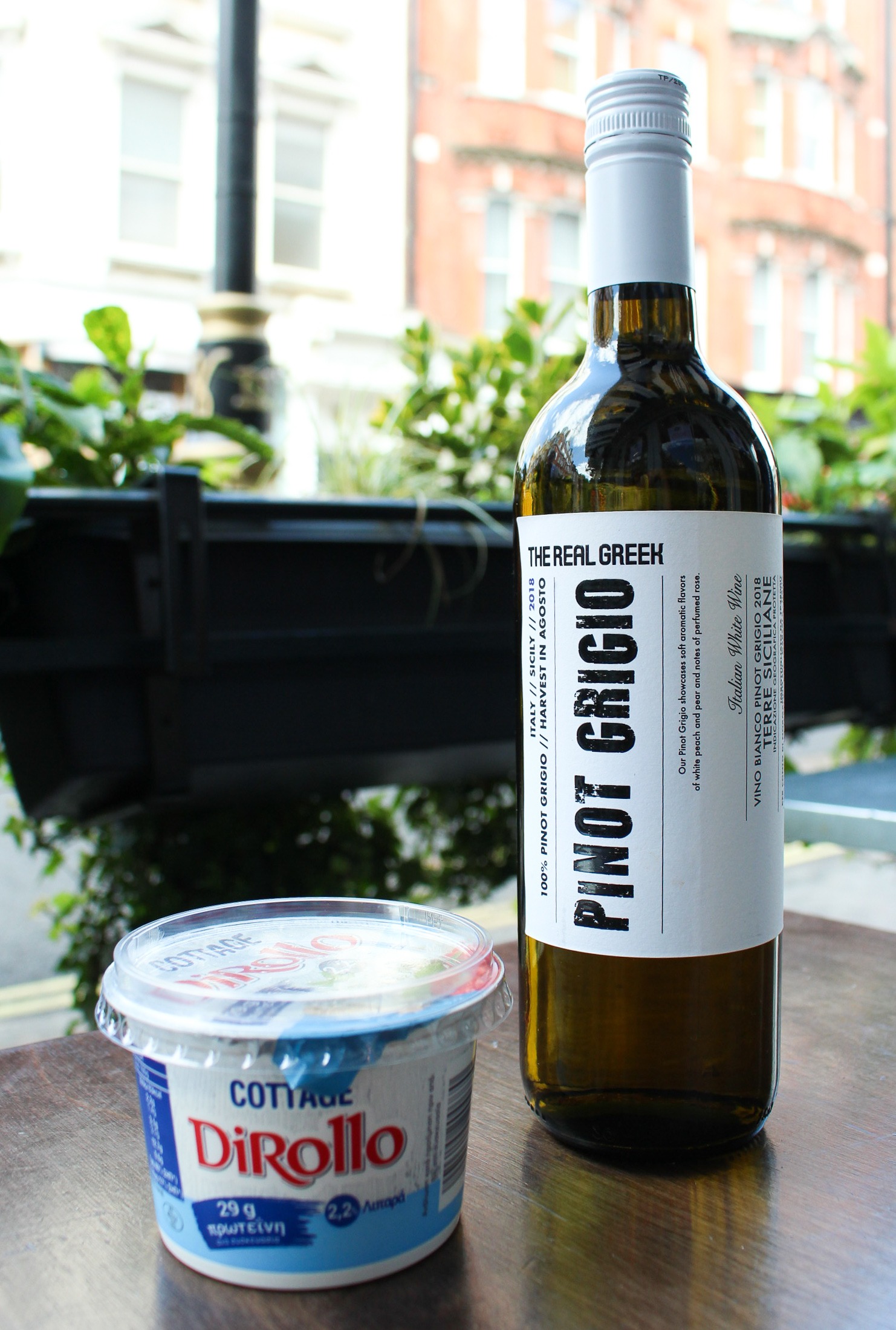 We hope you explore the wondrous world of Greek cheese, delicious wine and yummy food with us, staying safe and healthy!