The Greek salad is a staple of the Greek diet. It is one of the most famous salads, and you will find it listed in menus of non-Greek restaurants all over the world. We have seen it offered in French, Italian, Mexican, South African and Chinese restaurant menus – yes, Chinese! We even dare you to visit any British pub and check out the menu. It is most likely that you will find a Greek salad there to accompany your fish and chips!
The fact that it's served almost everywhere, does not mean that it is made as a proper Greek salad though! Here at The Real Greek we strive to offer you the Greek salad as it should be made, with the authentic flavour it should have.
The perfect Greek salad is not an easy task to accomplish. It needs the right ingredients, at the right amounts and the right feta, olive oil and oregano to top those off, making it as true to the salad you would enjoy in any Greek kitchen, as possible.
When we say ingredients, we mean the few produce that make up a Greek salad: tomatoes, onions, cucumbers, peppers and olives. The most important one of all of the above is of course…the tomatoes! The tomatoes are responsible of giving the Greek salad it's characteristic flavour. They have to be ripe, naturally sweet, flavourful and juicy. They are the base of this heavenly salad and they are responsible for 'binding' all the flavours together. You can have excellent olive oil, great feta and aromatic oregano, but when you pair them with tasteless tomatoes, the outcome is nothing like a Greek salad should be. It is disappointing to say the least.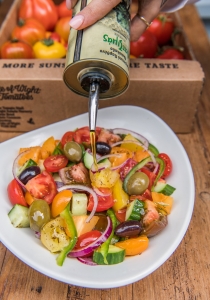 We have set out to make our salads with the best tomatoes we could find. At first, we overlooked any rise in costs and focused on importing the best tomatoes directly from Greece. We searched high and low to find a producer that could provide the amounts needed in our restaurants daily. Again, not an easy task. For many a reason, we realised that this was a dream we would have to give up on for the time being.
However, good tomatoes – the right tomatoes – were still to be found, and we did find them, right here in the UK! Award-winning heirloom tomatoes, sustainably grown just off the South coast of England, on the Isle Of White.
We are very proud to say that 'The Tomato Stall' is now our new tomato supplier, and their tomatoes taste exactly right!
They grow their tomatoes in the Arreton Valley, where tomatoes have been growing for more than 30 years due to the fertile soil, maritime climate and top UK sunshine levels.
This small team of entrepreneurs started providing consumers with speciality and conventional tomato varieties grown using nature-friendly farming, in their nursery in 2007.
Their growing system is entirely biodegradable – the plants are even grown in coconut husks – they have their own composting facility and they use natural predators to control pests, and bumblebees to pollinate their plants!
'Flavour is foremost' is their ethos, and their daily aim is to produce excellent tomatoes with reduced fertiliser inputs. Their two head growers share 50 years of combined experience between them and they have dedicated their lives to growing the best tomatoes possible. They grow up to a staggering 200 different varieties of tomatoes each year, which they individually taste-test to ensure the best possible flavour. At the same time, their search for the next best tomato is constant, as is perfecting their methods – each tomato is left to ripen on the vine and picked at the peak of its flavour.
The fact that their plant waste is composted and used to enrich the soil of their organic crops the following year, not only helps them regulate the nutrient requirements for each specific crop, but also results in more delicious tomatoes.
If all of the above it too much tomato-crop info for you, all you have to do to understand why we are so excited with our new heirloom tomatoes, is pop in and try our Greek Salad for your selves. We knew these tomatoes were exactly what we were looking for when we first tasted them – it was love at first bite – but when we turned them into our Greek salad for further taste tests, we literally closed our eyes and felt that we somehow were transported to Greece, eating our home-grown salads under the shade of an umbrella, on a little remote island.
Yes, they are THAT good!