What's it all about?
All the amazing food from The Real Greek in a cookbook & much more!
What's going to be the focus of the cookbook and what people should expect?
Want to have the recipes from your favourite dishes along with simple easy to follow instruction so you can cook The Real Greek at home? This one is for you.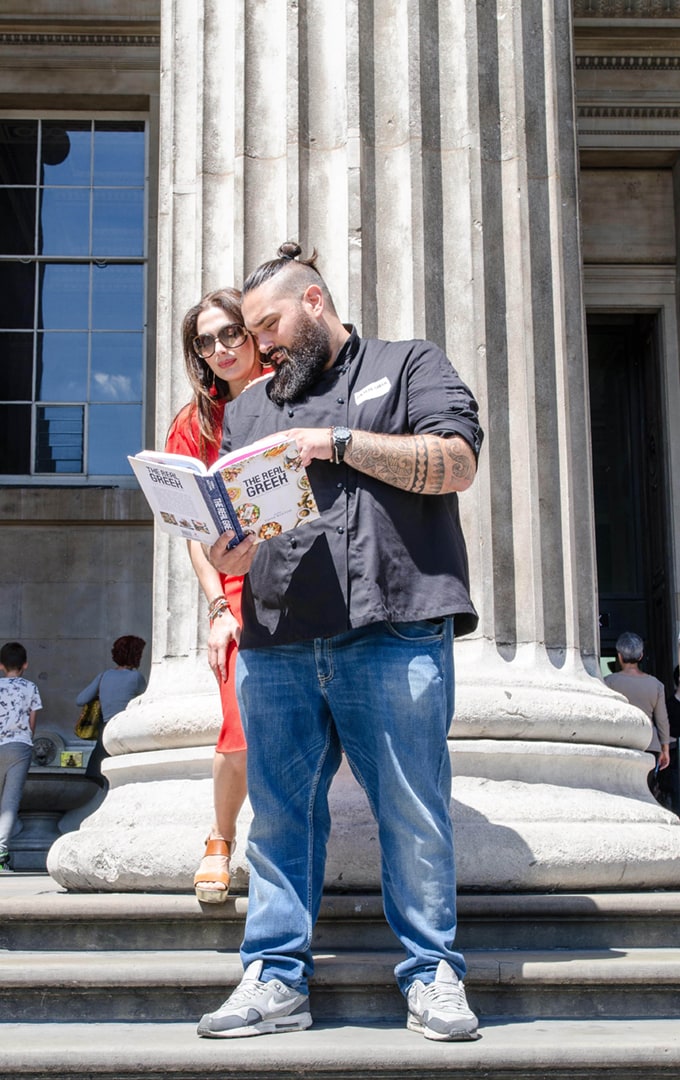 How did it all come together?
We started out on getting the recipes down to a more manageable level for the home (2-4-6 servings). We also asked a few of our key staff to look back into their family recipes that have been passed down generation to generation in their family and share their finding with us/you. There are some great dishes in there that you won't find anywhere else. The next stage was to organise the photos of all the dishes both in the Bankside restaurant and also in an offsite kitchen that we borrowed for a day's shooting.
We then flew to Athens to capture the real Greek side of like that encompasses everything we do in London. While we were shooting in Athens we really wanted to show the 'kefi' & 'filoxenia' of Greece is exactly what you get at The Real Greek.
What advice would you give to someone who's feeling anxious about tackling their first Greek cookbook? A lot of people don't know where to start when it comes to cooking from a new cookbook.
Cook something you know you like as you will already have a taste for it & it will help guide you, but all the recipes are broken down so they are easy to replicate in your home kitchen.
Is there an ingredient people will really enjoying cooking with that might be new to them and why?
The main this about Greek food is to get the best ingredients you can afford, extra virgin olive oil is a must for drizzling on EVERYTHING, same goes for chopped fresh oregano – I would suggest growing your own in pots on the window sill if you don't have a garden.
And finally, a game of foodie Cluedo. You can cook one dish, for one person, in one place. What, where and who?
NOTHING beats a good souvlaki, & the best place to eat it is in Monastiraki, in the buzzy winding lanes at the foot of the Acropolis, where you can feel the heartbeat of Athens, as for cooking for just one person, that never happens, Greek food is all about friends, family & sharing.
When does it come out and where can you find The Real Greek Cookbook?
Available from all good retailers from 14th July 2016. Available from all The Real Greek restaurants for a special introductory price of £10.00* from 14thJuly (* introductory price offer valid until 31st July 2016 at The Real Greek).